The propylene molecule can be polymerised in very different ways, resulting in polypropylenes with widely varying properties: from clear to opaque, from soft to very rigid.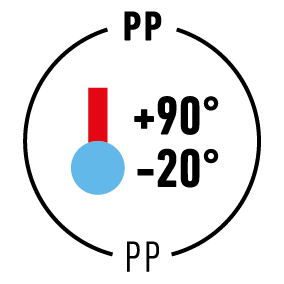 At Gilac, we use clear polypropylenes (for lids, in particular), more heat-resistant polypropylenes for containers that require it, and more fluid polypropylenes for large but thin containers. It has a low water vapour permeability which makes it highly resistant to moisture. We mainly use PP to manufacture the lids of our flat trays, our airtight boxes, and our ingredients containers because polypropylene is suitable for making hinges.
Like all the plastics we use in our containers, polypropylene is a food-grade, odourless, and 100% recyclable thermoplastic polymer.
| Abbreviation | Density | Temperature °C | Elasticity module | Shore D Hardness |
| --- | --- | --- | --- | --- |
| PP | 0,90-0,92 g/cm3 | -20°C<<+90°C | 600-1500 MPa | 69 |
All information is for reference only in standard conditions of use. The temperature ranges indicated are for generic materials related to exposure times and may vary substantially depending on the material references used. Please contact us for specific use. Users shall be wholly responsible for the use of all GILAC products.
DISCOVER ALL THE MATERIALS: