FOOD SAFETY

IS OUR BUSINESS
What does 'suitable for food contact' mean? How can we help you understand the regulations, the HACCP method, or decipher pictograms? Trust us to better understand food safety and ensure full compliance with the law.
THE THREE MUST-KNOW TERMS!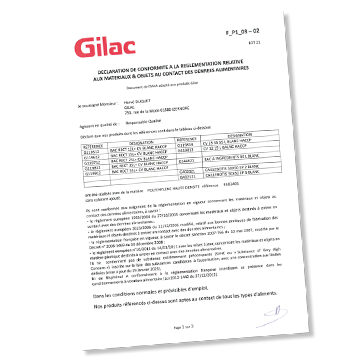 This mandatory declaration is your key to working legally. Requested during health inspections, food safety certificates certify that the food containers you have purchased comply with all the non-migration regulations in force in France and Europe.
 
It attests to the product's viability in contact with edible foodstuffs for a given period of time. It must, in particular, specify the results of migration tests or certify conformity regarding other aspects, such as the absence of Bisphenol, even at trace levels.

For your convenience, we have posted the food safety certificates for each product concerned online. You can download them from the product presentation page at any time.
'We provide food safety certificates with our products, this is our manufacturer's responsibility'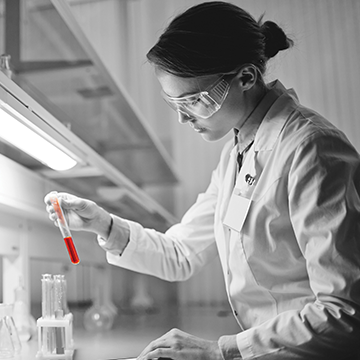 You may not have heard of it, but it is essential! Their role is to verify that a container remains suitable for food contact, under different conditions of use, once manufactured. This control is essential to ensure that migration limits are not exceeded. These tests are little known and must be repeated every five years or sooner if the regulations are changed as was the case in 2021 (EU regulation 2020/1245).  
To ensure that you can safely work with our containers, an independent EU-approved French laboratory carries out these global and specific migration tests for us. For each product concerned, we will provide the details of migration testing to inspection bodies that request it. You can sleep tight at night !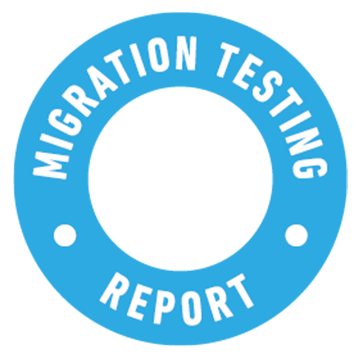 Suitable for food contact is the ability of a material to come into contact with a foodstuff while respecting the principle of inertia and all regulatory requirements.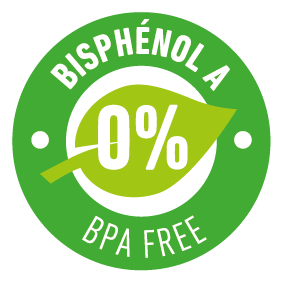 We have heard a lot about it, but what exactly is it? Bisphenol A (BPA) is an aromatic organic compound recognised as an endocrine disruptor and totally banned in France since 1 January 2015. Although recognised as an endocrine disruptor by the European Chemicals Agency (ECHA) two years later, its use in Europe is still not completely prohibited.
What is the risk? French law being stricter, with a total ban on BPA, you could unwittingly acquire a product containing BPA outside France and run the risk of being sanctioned during a health inspection. Because customer safety is our requirement, we guarantee that all our products, without exception, are Bisphenol A-free.
THERE IS NOT ONE
BUT MANY TYPES OF FOOD-GRADE PLASTIC...
FOLLOW THE GUIDE!
Food-grade plastic is a generic term for various materials... and it is not an easy task to understand the abbreviations and other acronyms! The main materials used in food containers are polystyrene (PS), polyethylene terephthalate (PET) polypropylene (PP), high density or low density polyethylene (LDPE/HDPE), recycled polyethylene (R-HDPE) or biobased (HDPE-BIO). 
To manufacture our containers, we pay special attention to the choice of material to ensure that it is appropriate for the container's use, otherwise it may warp, damage, or lose its suitability for food contact. We select the material according to its technical properties: rigidity, impact resistance, transparency, operating temperature ranges... and we ensure that the final product complies with the standards. You can count on us!
IMPLEMENT THE HACCP METHOD
TO LIMIT HEALTH RISKS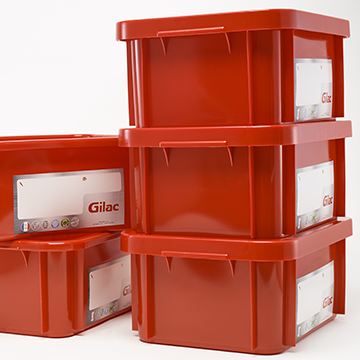 What does HACCP mean?
The HACCP (Hazard Analysis Critical Control Point) method is a method for controlling food safety. It is a work tool aimed, in particular, at limiting product cross-contamination. This method helps comply with European and national regulations which impose obligations on the food industry to ensure the safety and wholesomeness of foodstuffs at all stages, from production to distribution. To help you control health risks and avoid penalties, we have developed product ranges that comply with the HACCP method. You will pass health inspections with flying colours!
OPT FOR IMPROVED PROTECTION
WITH THE GILACTIV® RANGE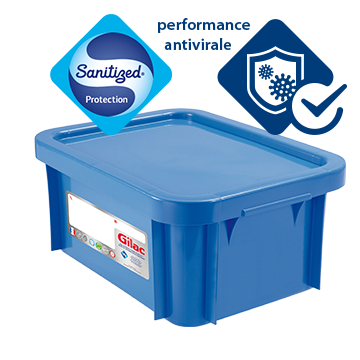 To help limit the proliferation of viruses and bacteria, we have developed the Gilactiv® range. These products are treated with the exclusive Sanitized® process, which has a biocidal effect through the controlled release of silver ions (active biocidal substance: silver phosphate glass). These silver ions diffuse on the surface of the container, forming a powerful antibacterial and antiviral film which prevents the proliferation of the viral load on the surface. Tests conducted by a French EU-approved independent laboratory showed that 98.6% of the virus was wiped out after two hours (tests carried out on human coronavirus HCoV-229E). Test results available on request.
To learn more about Sanitized® process
WE ASSIST YOU IN CHOOSING
THE RIGHT CONTAINERS FOR YOU
As catering professionals, you have a legal and moral obligation to minimise and, ideally, eliminate health risks. Containers, crates, barrels, and other plastic food containers are numerous in the food processing chain. Their properties being sine qua non conditions for compliance with food hygiene conditions, we decided to publish this guide "the four main food-grade plastic health issues" to help you acquire the best possible reflexes to choose the right containers for you.
Discover the guide (written in French)
To learn more on food safety