LOW DENSITY

POLYETHYLENE

(LDPE)
Like high density polyethylene, LDPE offers great chemical resistance and good non-stick properties.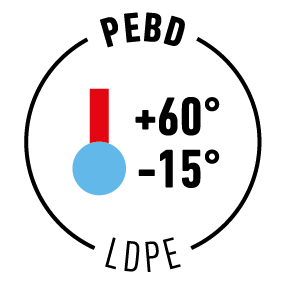 It has the particularity of being more flexible which allows it to be very durable because it is highly impact resistant. We favour low-density polyethylene for bowls, tubs, buckets, etc.
Like all the plastics we use in our containers, low-density polyethylene is a food-grade, odourless, and 100% recyclable thermoplastic polymer.
Abbreviation

Density

Temperature °C

Elasticity 

module

Shore D Hardness

LDPE

0,91-0,93 g/cm3

-15°C<<+60°C

200-300 MPa

40-47
All information is for reference only in standard conditions of use. The temperature ranges indicated are for generic materials related to exposure times and may vary substantially depending on the material references used. Please contact us for specific use. Users shall be wholly responsible for the use of all GILAC products.
DISCOVER ALL THE MATERIALS: