HIGH DENSITY

POLYETHYLENE

(HDPE)
High density polyethylene is the most commonly used material in our products.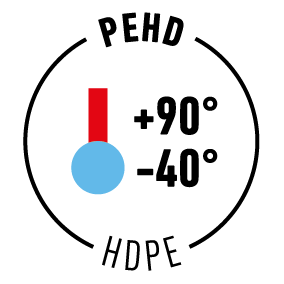 High mechanical strength with good cold impact resistance, low moisture absorption, and excellent chemical resistance are its main properties, making it ideal for intensive use. As such, all our reinforced storage containers, our crates, and our large volume containers intended for high loads are made of HDPE. This is also the case for flat trays often used for storage in refrigerators...
Its non-stick properties are also an asset for many uses, such as containers used for dough raising or tubs for the dairy industry.
Like all plastics we use in our containers, high-density polyethylene is a food-grade, odourless, and 100% recyclable thermoplastic polymer.
| Abbreviation | Density | Temperature °C | Elasticity module | Shore D Hardness |
| --- | --- | --- | --- | --- |
| HDPE | 0,94-0,965 g/cm3 | -40°C<<+90°C | 800-1200 MPa | 68 |
All information is for reference only in standard conditions of use. The temperature ranges indicated are for generic materials related to exposure times and may vary substantially depending on the material references used. Please contact us for specific use. Users shall be wholly responsible for the use of all GILAC products.
DISCOVER ALL THE MATERIALS: